Father Mark thanks you for your monetary support during this very trying time. Your donation will be used by Father Mark for legal costs and other expenses that will support his fight for his Priesthood and Christ's Church. 100% of your donation will go to the effort thanks to Truth Guardians picking up the administrative and credit card fees.
Becky Ianni was Father's latest speaker for his "I Survived and Have a Vision" Sexual Abuse Survivors Speakers Series. Here is the full speech and the link to the resources she provided during her talk. It was fantastic! https://youtu.be/n9PmX5YjUjk
Becky Ianni will be Father's next Speaker in his "I Survived and Have a Vision" Sexual Abuse Survivors Speakers Series on September 25th, 5:00 PM at St. Luke's Episcopal Church in Alexandria, VA. Here is a short audio interview with Becky: https://youtu.be/CsWHoviD-zU
FATHER MARK'S LATEST VIDEO If you have 45 minutes to spare, I guarantee you will learn a couple of things that will enhance your understanding of Father Mark and maybe even give you an insight into your own life!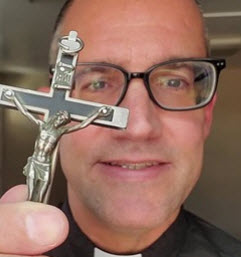 A Short Video About The Struggle A 3:16 minute video of Father explaining the situation. A good place to start your investigation.
The Life and Persecution of Father White This is a long-format video broken into sections that give a fairly complete view of the suspension and the facts leading up to it. A more complete view can be seen on Father Mark's personal blog.
Letters To Bishop Knestout in Support of Fr. Mark White (Versión en español a continuación)THE TIME IS NOW!
You can find Father Mark on the net at his BLOG: https://frmarkdwhite.wordpress.com/