Letters To Bishop Knestout in Support of Fr. Mark White (Versión en español a continuación)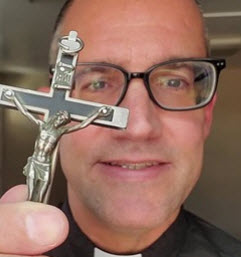 THE TIME IS NOW! A letter-writing campaign will begin immediately in support of Fr. Mark. Depending on the enthusiasm from supporters, it may go all the way through Lent.
We have constructed several sample letters. These may be copied and used as written. Or you may wish to use parts of them and make your personal changes. We have also listed suggestions for putting together your own letters from "scratch."
General guidelines for submitting your letter:
*Please do not send your letter directly to the bishop's office. Why? Because we believe we have much more power and influence when we send the letters in bulk. If you do want to send a letter directly to the Bishop…please do so. But also send us a copy of your letter, and we will send it again with the others. (We are doing this so that we have a tracking system for the number of letters that are sent.)
*Please do not date your letter. The letters will be gathered over a period of weeks and it is important that they be seen as "current" (not "old" letters).
*Please be sure to sign your letter. Signed letters are always more valuable than anonymous ones. However, if you are not comfortable with signing your name, please put "Anonymous" or use a pseudonym at the bottom of your letter.
*Do you need to include your home address? No, but you may do so if you wish.
*There are two ways to get your letter to us so that we can send all of them directly to the bishop: The quickest way is to e-mail your letter to 1stTruthGuardian@gmail.com Or the USPS mailing address for your letter: 1stTruthGuardian – Father Mark Support, P. O. Box 513, Cloverdale, VA 24077.
We value your letter and will make sure it has the opportunity for the greatest possible impact to help Father Mark. What we will do: We will notify you that we received your letter. We will also communicate via this website and on the Justice for Father Mark Facebook Page the number of letters that we send to the Bishop.
Here is a good place to start. A basic outline of suggestions for items you may wish to write about.
If you prefer to use a sample letter, the next two letters talk about how Fr Mark's suspension has affected the religious life of the parishioners.
This very powerful letter focuses on the McCarrick report and asks specific questions of the Bishop about what he knew as he worked for and interacted with then-Cardinal McCarrick.
This letter talks about compassion and mercy and asks the Bishop to consider his place in the Church and the example that he sets for all of us.
The overall question of secrecy and hiding the abuses in the Church is the subject of this next letter.
NOTE: This page will be enhanced with other letters that we feel are appropriate for future communication to Bishop Knestout. Please be sure to check out this site on a regular basis.
---
Cartas al obispo Knestout en apoyo del padre Mark White
¡EL TIEMPO ES AHORA! Una campaña de escritura de cartas comenzará inmediatamente en apoyo del P. Marcos. Dependiendo del entusiasmo de los seguidores, es posible que dure toda la Cuaresma.
Hemos elaborado varias cartas de muestra. Estos se pueden copiar y utilizar como están escritos. O tal vez desee utilizar partes de ellos y realizar sus cambios personales. También hemos enumerado sugerencias para armar sus propias cartas desde "cero".
Pautas generales para enviar su carta:
No envíe su carta directamente a la oficina del obispo. ¿Por qué? Porque creemos que tenemos mucho más poder e influencia cuando enviamos las cartas a granel. Si desea enviar una carta directamente al obispo … hágalo. Pero también envíenos una copia de su carta y la volveremos a enviar con las demás. (Estamos haciendo esto para tener un sistema de seguimiento de la cantidad de cartas que se envían).
No ponga la fecha en su carta. Las cartas se recopilarán durante un período de semanas y es importante que se consideren como "actuales" (no como cartas "antiguas").
Asegúrese de firmar su carta. Las cartas firmadas son siempre más valiosas que las anónimas. Sin embargo, si no se siente cómodo firmando su nombre, escriba "Anónimo" o utilice un seudónimo al final de su carta.
¿Necesitas incluir tu dirección particular? No, pero puede hacerlo si lo desea.
Hay dos formas de enviarnos su carta para que podamos enviarlas todas directamente al obispo: La forma más rápida es enviar su carta por correo electrónico a 1stTruthGuardian@gmail.com O a la dirección postal de USPS para su carta: 1stTruthGuardian – Father Mark Support, PO Box 513, Cloverdale, VA 24077.
Valoramos su carta y nos aseguraremos de que tenga la oportunidad de lograr el mayor impacto posible para ayudar al Padre Mark. Qué haremos: Le notificaremos que recibimos su carta. También comunicaremos a través de este sitio web y en la página de Facebook de Justice for Father Mark el número de cartas que enviamos al Obispo.
Este es un buen lugar para comenzar. Un esquema básico de sugerencias para los elementos sobre los que tal vez desee escribir.
Si prefiere utilizar una carta modelo, las siguientes dos cartas hablan de cómo la suspensión del P. Mark ha afectado la vida religiosa de los feligreses.
Esta poderosa carta se centra en el informe McCarrick y hace preguntas específicas al obispo sobre lo que sabía mientras trabajaba e interactuaba con el entonces cardenal McCarrick.

Esta carta habla de la compasión y la misericordia y le pide al obispo que considere su lugar en la Iglesia y el ejemplo que nos da a todos.

La cuestión general del secreto y el ocultamiento de los abusos en la Iglesia es el tema de esta próxima carta.

NOTA: Esta página se mejorará con otras cartas que creemos que son apropiadas para futuras comunicaciones con el obispo Knestout. Asegúrese de visitar este sitio con regularidad.